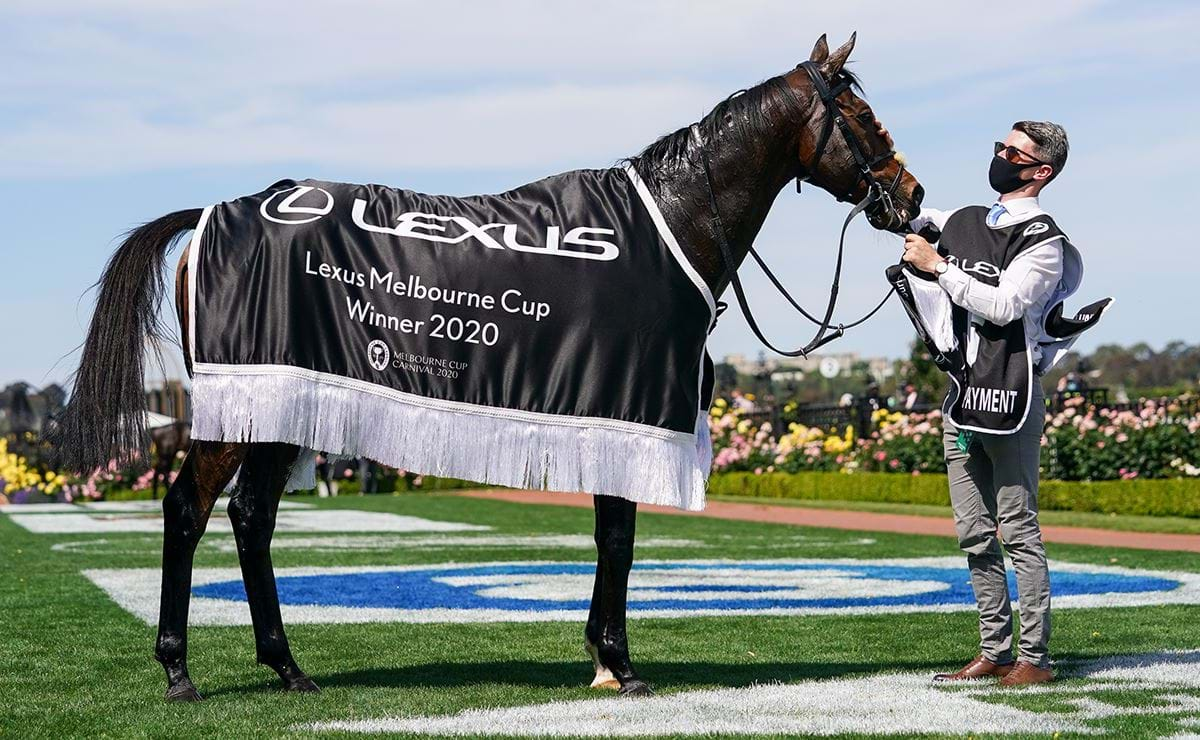 Racing Photos
Lexus Melbourne Cup winners
Race Result:
1st: Twilight Payment (J McNeil/J O'Brien) - $26
2nd:Tiger Moth (K McEvoy/A O'Brien) - $6.50
3rd: Prince Of Arran (J Kah/C Fellowes) - $9.50
Winning Time: 3:17.34 Last 600m: 36.23
Margins: Long Neck x Short Neck
"Too many emotions. It's a very big moment."
At his first ride in 'Australia's greatest race', jockey Jye McNeil has won the 2020 Lexus Melbourne Cup aboard the Joseph O'Brien-trained and Lloyd Williams-owned Twilight Payment.
With a daring front-running ride, McNeil made every post a winner and fended off every challenge to win the 160th running of the Lexus Melbourne Cup by a long neck over the Aidan O'Brien-trained Tiger Moth, and the Charlie Fellowes-trained Prince of Arran.
Continuing his remarkable record in the Lexus Melbourne Cup, owner Lloyd Williams secured his seventh victory in the world's richest two-mile contest, while 27-year-old Joseph O'Brien won his second Lexus Melbourne Cup once again edging out his father, Aidan, who had Johannes Vermeer finish runners-up to Joseph's three-year-old Rekindling in 2017.
McNeil was ecstatic to have won his long-time dream.
"Too many emotions," McNeil said following his Lexus Melbourne Cup success. "It's a very big moment. Jess (wife) and the boy, Oakley, will be watching from home today. Unfortunately, they couldn't be here. I'm sure that they along with a lot of other people will be very proud."
Despite no crowds being on course, McNeil said it had no impact on the huge thrill of winning the Cup.
"I'm not worried about the (empty) grandstand at all. To be able to get the opportunity from the Williams family to partner Twilight Payment today, not only them, but Joseph O'Brien who has done a fantastic job preparing him, it is very overwhelming.
"It was the plan to always be forward. Obviously with where he was in the market I wasn't feeling a lot of pressure but when you've got to go forward like that there is some pressure in getting it right. Thankfully it all came together."
Having achieved his greatest career goal, McNeil had a word of advice for his son, Oakleigh.
"Well, if he follows in my footsteps, work hard and you can achieve your goals and this has been one of mine since day one. Massive congratulations to Mr Williams and his family."
It was a different scene for Joseph O'Brien watching back in Ireland, quite different to the scene he was so front-and-centre to with Rekindling in 2017. Winning the Lexus Melbourne Cup, however, was still "very special".
"Obviously it's quite different, we would have loved to have been there.
"It's incredibly special. Jye gave the horse an incredible ride and all credit has to go to Lloyd and Nick Williams. They really thought this horse had a big chance in the race this year.
"There was a time when we weren't sure whether we were going to be able to have runners in the race this year. Very special that we were able to compete in the race. All credit and a huge thanks to all the people behind the scenes making that happen and make it possible.
"We're very lucky to take part in those races with the horses and support of the owners - Lloyd and Nick. Jye gave the horse the most wonderful ride."
The 2020 Lexus Melbourne Cup winner Twilight Payment was a $26 chance with TAB, with the well-backed favourite Surprise Baby ($6 with TAB) finishing outside of the placings.