Good, better, best
Before the word 'furphy' was part of the Australian vernacular that meant 'telling a tall tale', it was simply the name of a family from Shepparton that produced water carts.
The water cart designed and manufactured by John Furphy in the 1880s is a key piece of Australian manufacturing history, and is also now synonymous with a high-quality ale brewed in Geelong.
With a history entrenched in Victoria and its regional communities, and its high-quality ingredients sourced from Victoria, there has never been a better time to support local, and celebrate the Melbourne Cup Carnival with a Furphy.
John Furphy was an innovative man, with an ability to adapt machinery to suit local conditions. His iron foundry, blacksmith and wheelwrighting business meant he could create a huge scope of products.
Among a number of machines that increased productivity such as double-furrow ploughs and spike rollers, John's vision of the farm water cart quickly became a vital piece of equipment.
A rolled barrel with cast iron concave ends was fitted to a cart, thus allowing water to be transported wherever it was needed. Emblazoned with the family name, there was also a small poem on the tank – "Good Better Best, Never Let it Rest, Til your Good is Better, And your Better Best."
This became synonymous with the water tank, and is the company motto for both J. Furphy & Sons and Furphy Foundry today. By the time the First World War began, the Furphy water carts were already successful in regional Victoria.
It is when the carts were used to deliver water to the thousands of men at the AIF camps in Broadmeadows, where troops gathered before they departed overseas for combat, that the family name took on another meaning. As the carts travelled around the camps delivering water, they became informal opportunities for the troops to share information and tell stories – some a little 'taller' than others.
Used for decades as a soldiers' word, the term 'furphy' then became an iconic Australian slang term for a piece of information that is deemed improbable or untrue.
Fast forward and the term is now just as well-known when ordering a beer, thanks to the Furphy Refreshing Ale brewed at Little Creatures Brewery in Geelong. When Lion Beer Australia noticed that the supplier of some of their stainless-steel tanks (the Furphy family continues the business of metal-based manufacturing) had a unique and distinctly Australian name, a licensing deal was struck and the Furphy beer was born.
The beer also brings together two Victorian businesses, with the Shepparton-based Furphy and Geelong-based Little Creatures. The beer itself also uses 100% Victorian hops and malt, making it a truly local brew.
With a history of 'spinning yarns' attached to the name, it's only natural that the beer will encourage friends gathering together and celebrate the storyteller in all of us. Create more memories, and maybe some tall tales this year as you share a Furphy with friends in your backyard during the Melbourne Cup Carnival festivities.
Beer and barbecue is a tried and true combination: the refreshing, cold ale with tasty meats is a sure winner. The team at Furphy offers their top picks to pair with your grilled goods.
Furphy Crisp Lager
The exciting new addition to the Furphy family and born at the Little Creatures Brewery in Geelong, this smooth crisp lager is currently only available in its home state of Victoria. The subtle citrus character and low bitterness from the use of Cascade hops complement the light malt base, which contributes the light golden colour to the beer. It's easy-drinking, crisp, refreshing and finishes clean.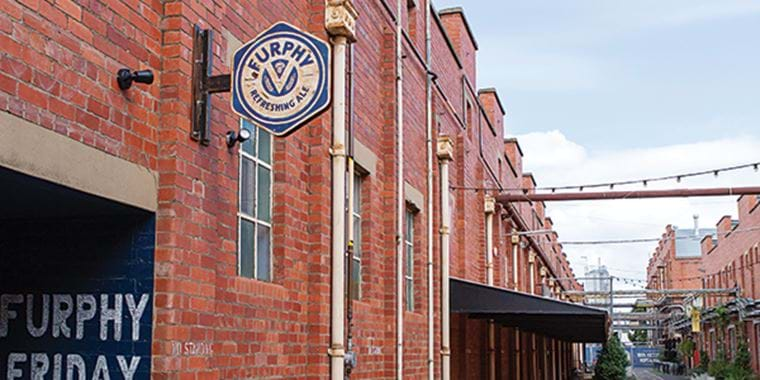 Furphy Refreshing Ale
A clean and crisp, balanced beer with subtle fruit flavours and aromas. There's a maltiness throughout, which leads to a pleasantly refreshing, dry finish and no harsh aftertaste. Brewed with 100% Victorian Hops and Malt, this pale gold Ale was inspired by the German Kolsch style but could be easily mistaken for a light lager.
For more information about the story of the Furphy family and the Furphy Museum, please visit www.furphystory.com.au
Explore the Marketplace
Elevate your Cup Week experience with perfectly themed decorations and more.
FIND OUT MORE