Gather friends in your backyard and take note of VRC Chef Ryan Flaherty's tips to host an elegant yet casual barbecue, paired with a crisp Furphy beer.
Snacks 
Homemade focaccia Tear into pieces, accompanied by homemade dips and warmed olives.
Barbecued chicken wings Cook them on the flat grill lined with good quality baking paper and a drizzle of olive oil.
Lamb cutlets Grilled on the barbecue, brush with extra virgin olive oil using a small bunch of rosemary or thyme. Sprinkle with good quality sea salt, cracked pepper and serve with lemon wedges.
Prawn tails Cook in olive oil and turn once each side. Sprinkle with chopped dill, sea salt and finely cut chilli. Serve with avocado halves peeled and grilled.
Scallops When they start to sizzle, throw a couple of small pieces of butter amongst them for rich flavour.
Mains
Steak Grill small steaks or one massive tomahawk, porterhouse, ribeye or scotch, carved at the table. Serve with salsa verde, horseradish cream and mustards.
Sausages Good quality fat sausages from a butcher such as thick pork and fennel are our pick. Serve with apple slaw, a nice relish or fruit chutney.
Chicken Thighs, butterflied breast or a whole chicken carved at the table. Buy free-range for best flavour. Drizzle a marinade such as tarragon over it before carving or sprinkle it with sea salt, pepper and a drizzle of extra virgin olive oil.
Sides
Blanch vegetables first then allow to dry before grilling them. That way, the vegetable is cooked through, and the hot grill will put a nice colour on the vegetables. Brush them with olive oil or butter, or, for a more gourmet experience, Wagyu fat or duck fat.
Dessert
A pavlova topped with plenty of cream and berries, freshly scooped-out passionfruit and grated chocolate. A hot alternative is grilled peaches or apricots served with mascarpone cream and toasted almonds.
Beverage Tips
Beer and barbecue is a tried and true combination: the refreshing, cold beer and tasty meats is a sure winner. Top picks to pair with your Barbecue feast.
Furphy Crisp Lager
The exciting new addition to the Furphy family and born at the Little Creatures Brewery in Geelong, this smooth crisp lager is currently only available in its home state of Victoria. This beer is easydrinking, full strength and finishes clean-brewed for the ultimate refreshment.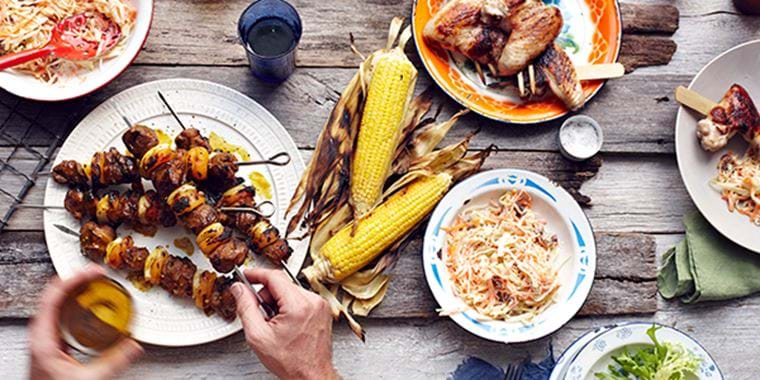 Furphy Refreshing Ale
A clean and crisp, balanced beer with subtle fruit flavours and aromas. There's a maltiness throughout, which leads to a pleasantly refreshing, dry finish and no harsh aftertaste. Brewed with 100% Victorian Hops and Malt, this pale gold Ale was inspired by the German Kolsch style.
Telling a furphy?
Did you know that the term 'furphy' originated from the Furphy family's water carts that delivered water to men during the war? It is said that gathering around the cart became informal opportunities for the troops to share information and tell stories. The term 'furphy' then became an iconic Australian slang term for a story that was deemed unbelievable.
For more information on Furphy, visit www.furphystory.com.au
Visit the Marketplace
Enhance your Cup Week experience with mouth-watering food and drink offers.
FIND OUT MORE